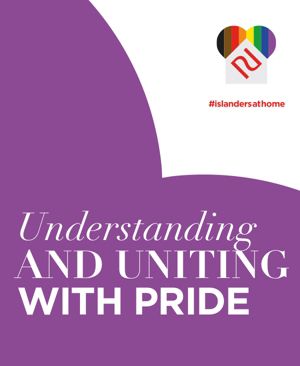 When you think of Pride you think of the parades and street parties, right? Us too. Although they are a massive part of Pride celebrations, it's important to remember that isn't what Pride is about. With 2020 not exactly going to plan, we've all been given the opportunity to learn more about the importance of Pride and get back to the celebration's roots. We spoke to radio presenter (and your self proclaimed gay best friend) Helen Scott and Rose Reveur, co host of Two Twos podcast, about what Pride means to them and how we can all be better allies to the LGBTQIA+ community. Check out what they had to say …

Why is Pride important?
H:
Imagine loving fashion, clothes and make up and then imagine not knowing anyone or seeing anyone on TV with that passion too. You'd feel like you were different and alone. Well, that's how I felt growing up as a lesbian. It wasn't until the first time I met an out and proud lesbian that I realised exactly who I am. There was absolutely no reference to lesbians that looked like me or that I felt akin to in any way growing up. So, Pride is important because it gives space for people to see themselves in a community, in a group of people who have similar experiences and who they can connect with. It's also a chance to show the world that we exist. We're out here and we deserve to exist.
R:
Pride is important because the celebration and visibility around this time validates a lot of LGBT individuals in regards to who they are that they may not get all year round. Pride is a time where we remember the Stonewall Riots and pay tribute to those who suffered and fought so we are able to live in a country where we are protected by laws.
Pride has become a real celebration, but is rooted in activism - can you tell us more?
H: Pride started as a protest and a huge proportion of the community, including myself, has seen the meaning of Pride slip a little over the years. I mean, we do throw one hell of a party but we have to keep working towards equality so we can have the same freedoms as straight people. For example, deciding where to go on holiday with my girlfriend is difficult because there are many countries where you can be killed for being gay. Unlike straight people, we have to think about which hotel we'll stay at, if we'll be able to hold hands, will people stare and shout things? Will we feel safe? Having to think about those things is the exact reason we need pride to remain a protest and not just a party.

R:
Marsha P Johnson was an American Black Trans Woman who was a very prominent figure during the Stonewall Riots, and it's not often you hear about the riots without hearing Marsha's name. It is rumoured she either threw a rock at a police car or she dropped her bag on a police window that started the uprising. Stonewall was a gay bar in Greenwich Village that was raided on June 28th. Raids were quite regular towards gay bars at the time and were rooted in homophobia. This particular night violence erupted and the LGBT community fought back. This led to days of rioting, and the start of two gay activism groups called the Gay Liberation Front and Gay Activists Alliance. Both groups were created to promote the need for freedom of expression and dignity. Every year in June we have Pride which is a celebration of the uprising that came from the Stonewall.

How did you find your own Pride?
H:
My own pride comes from an unwavering confidence in being myself. I don't always want to correct people when they assume I'm straight because it's tiring having to constantly come out and listen to people's surprised tones and invasive questions. However, if I didn't do that and just pretended, I wouldn't be helping to drive home the message that queer people come in all shapes and sizes. I also wouldn't be that role model I wished I'd had growing up. I've lived the experience of homophobia and of my sexuality being something I have to really think about sharing so I've earned the right to be unashamedly proud of my gayness.
R:
I usually attend UK Black Pride because its a place where I am recognised as a Black Lesbian. Unfortunately, London Pride is very white and isn't a reflection of who I am and my experiences. About 5 years ago someone asked me if I were going, I hadn't heard of it and thought I'd give it a go. Since then it has literally been the highlight of my year. From DJ's playing the latest afrobeats and dancehall songs, to Beyonce tribute acts and meeting up with a long distance family member who you only discovered was queer through bumping into them at UK Black Pride.

How can we all be better allies to the LGBTQIA+ community?
H:
This year all Prides will be digital, virtual and most of them remain free events. We need the straight community to not forget about us just because you can't throw on some glitter and dance to the Spice Girls this year. We need you to stand with us, to fight for basic human rights with us, to call out outdated opinions and to help us make as much noise as we usually do and louder. During Corona we've seen just how compassionate people can be. Continue that spirit and show up at a digital Pride, share stories on your own platforms, learn about us and amplify your peers because we're still here without the party.
Rose, your podcast Two Two's tagline is 'bridging the gap between the straights and the gays'. Tell us more about how we can bridge that gap?
R: This tagline is all about talking about the common misconceptions about the LGBT scene cishet people have. We have open and candid conversations because we know talking about things especially in regards to gender identity can be daunting for those who are not from the community in fear of offending somebody. We hope to provide a space where these conversations can happen safely whilst still educating.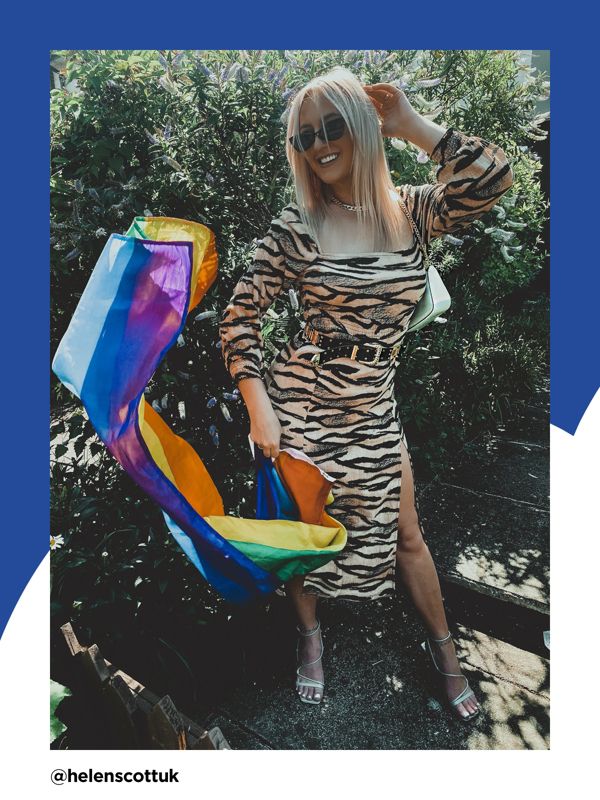 How will you both be celebrating Pride this year?
H: This year I decided to host my very own Pride event on my Instagram @helenscottuk. I had talks, takeovers, drag queens, performances, Q&As, topical debates and one hell of a party of course! It's important to use this time to come together and have conversations that we might not have at regular Pride because we're too busy dancing and celebrating. It was the perfect opportunity to say 'Hey! We're still here, thank you for accepting us thus far, but here's what else needs to change to make our lives as easy to live as yours'. It was the ideal opportunity for learning when everyone is at home and on social media more than ever before.

R:
This year I will be going to the park on June 27th to celebrate Pride with food, drinks and music. I also used this time to raise money for black queer people to provide free therapy for those have have had a hard time especially this year. I have currently raised just under £65,000 and it has also been a great opportunity to raise awareness about mental health and access to it.
It should be fun too right?
R:
FUN is THE word! Pride is honestly the highlight of my year, because I catch up with old friends, have a laugh and drink under the sun, and feel the community spirit. Not to mention all the parties that happen during pride weekend are also always very memorable.

What will you be wearing for Pride this year?
H:
What I love about Pride this year is that you can literally wear whatever you like because there's no regard for what the weathers gonna do! I'll be going all out high femme boss vibes with heels and a powder blue blazer dress. I love to feel powerful at Pride and so whilst a festival look is probably a bit easier to navigate all the dancing, I'm opting for the dress before slipping into some comfy loungewear!
R:
I usually go for white or bright colours for Pride with a very small Pride flag on somewhere like my socks. I usually always wear new trainers to the clubs with a crisp shirt, going for a clean look. I always have my hair freshly done with a trim on the sides. I'm always last minute with my outfit but this year I plan on wearing a coord that still captures my clean look in a pastel colour.

Has defining a personal style helped you embrace your identity?
H: Absolutely! In my early twenties I began to dress 'more gay' or how I would describe it now as a more butch or masculine. The first few years of coming out, I'd go to gay bars and people in the community would say I was too femme to be gay which was just bizarre to me. That influenced me into dressing a 'bit more gay' to feel accepted and to actually get hit on once in a while. I felt like such a fraud on those nights because all I wanted to do was go out dressed like Samantha from SATC. It wasn't until I decided to live in my truth and own my high femme lesbian self that I got rid of the checked shirts and replaced them with silky two pieces and stuck my fingers up at anyone who didn't like it!
R:
I am a masuline presenting lesbian which means for me, I only wear men's clothes and I am quite masuline in the way I present myself (although I am defo a queen a heart). This has definitely helped with me being comfortable with who I am and embracing that. I am more comfortable in men's clothing and I am therefore able to walk through life with my held high and proud.
How can we make Pride live outside of this month?
H:
Pride, as we know, isn't just in the month of June, it's every damn day of the year for us and we love it. But it's hard fighting a battle when your numbers dwindle for 11 months of the year. So all the things that you learn and that you experience with us this month, try and implement some ally strategies year round. Share accounts of LGTBQ+ people, follow us on Instagram so that you can hear and learn about stuff that's happening all year round, sign our petitions and show up at our protests when we're finally allowed out of doors again!
R:
I think remembering that queer people exist outside of Pride and are a part of society would be great. By including us in campaigns at all times of the year not just during Pride month. Queer people are a part of society and that should be reflected without having to highlight that there are queer people as part of the campaign. It should just be.