Suits are a wardrobe essential, but not just for the 9-5. This season we're taking things outside of the boardroom. Meet Nigel, the designer-turned-tailor who knows a thing or two about suits. We caught up to talk style influences, Saville Row and how he unwinds…
Name: Nigel Ruwende
Age: 29
Profession: Designer and tailor
How did you get into your role?
I started out as a stylist in personal shopping, then went onto working freelance and then met Cynthia Lawrence John who was an amazing mentor who helped me get into doing more editorial work. I started to be more interested in how things were made rather than composing pieces onto people so I went onto do shirt making and pattern cutting. Eventually, I started my own company creating made to order aprons for restaurants and cafes and then was approached and started at Saville Row, apprenticing as a trouser maker. On the side, I was also doing some presenting, mostly fashion content and worked for a menswear site called Individualism – I think we actually worked with River Island some years back! Last year, I took the leap and left Saville Row and now I'm back focusing on my own company, adding in more products to the mix.
Tell us about your company…
I'm doing everything myself so it can be tough at times, it's hard, it's fun, it's scary, it's not comfortable – which is a great position to be in. There's no risk without reward.
How do you unwind?
It can be tough, my dad passed away last year which meant I didn't get to show him a lot of my final work. Working on the project whilst dealing with that was hard but I do grief counselling, I do yoga then I go and do my work. It's having that balance of trying to make sure you put enough work into your passion equal to the amount of care and support you give to yourself. It's a juggling act.
Dad style is huge at the moment, has your dad been an influence to you?
You don't even know! My dad has been an influence to me in ways that I didn't really quite notice until recently. He had great taste. I found some old pictures recently, he was wearing cargo trousers with the cinched ankle, chunky trainers and a thermal fleece. I looked at the picture and I was like, "yo" He was steezy, he could've been on Hypebeast. But yeah, he helped me kind of curate my design vernacular. I'm super into anything between 1950s - 1974 when it comes to designers, architecture, prints. That whole kind of era is what resonates with me the most and that's when he was running around being cool.
Do you think every man should own a suit?
Oh my days, all flipping day. At least one, and that's the minimum. I'd always say two, a good navy and either a dark grey or black. And it needs to fit too.
An average day in your suit looks like…
Get up, have a shower, put on some jazz, get dressed. If I have meetings I go to The Ministry where I'm a member, it's like a social club/ members club. Have a few meetings there, some guys might come in to try on some pieces and then have my committee meeting in the evening. Grab some dinner and then head home. If I have meetings, I'm in a suit but always with slip ons. When I'm doing something a little more extensive, I dress down. But there will be a nuance of tailoring in there, even with tracksuit bottoms!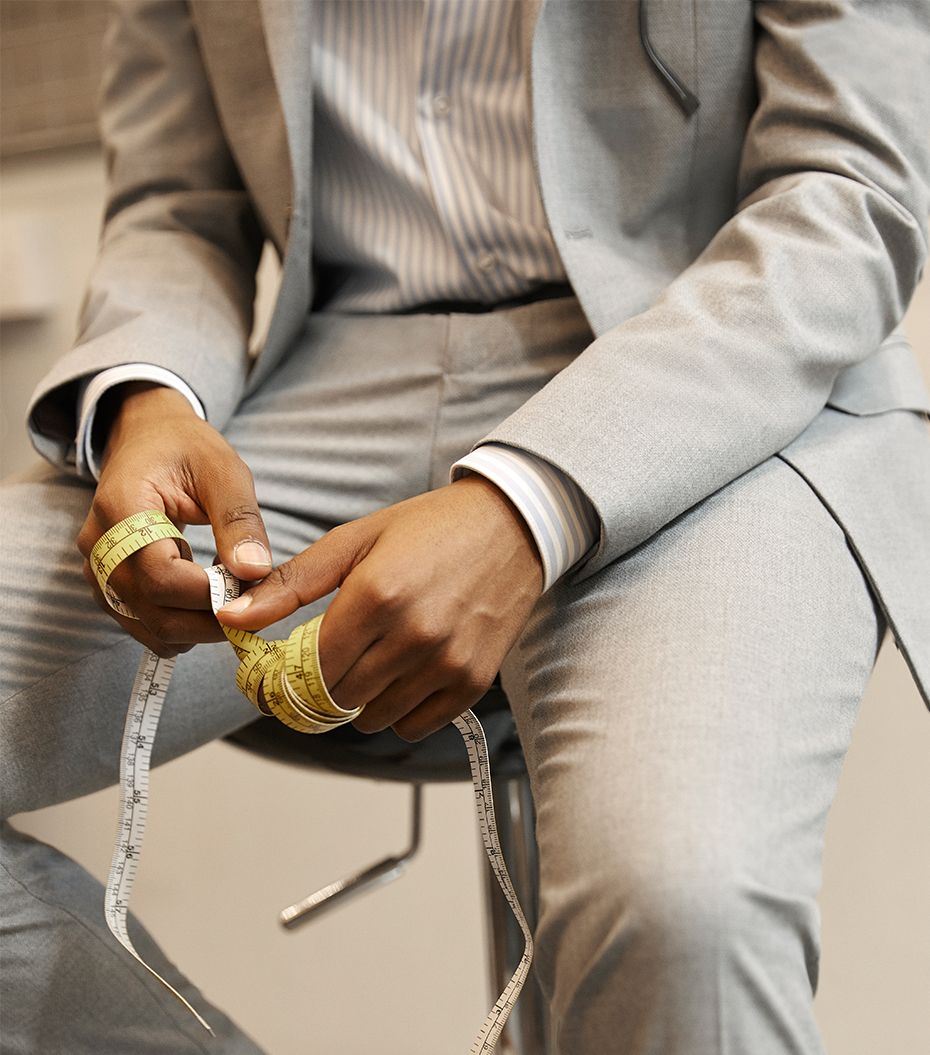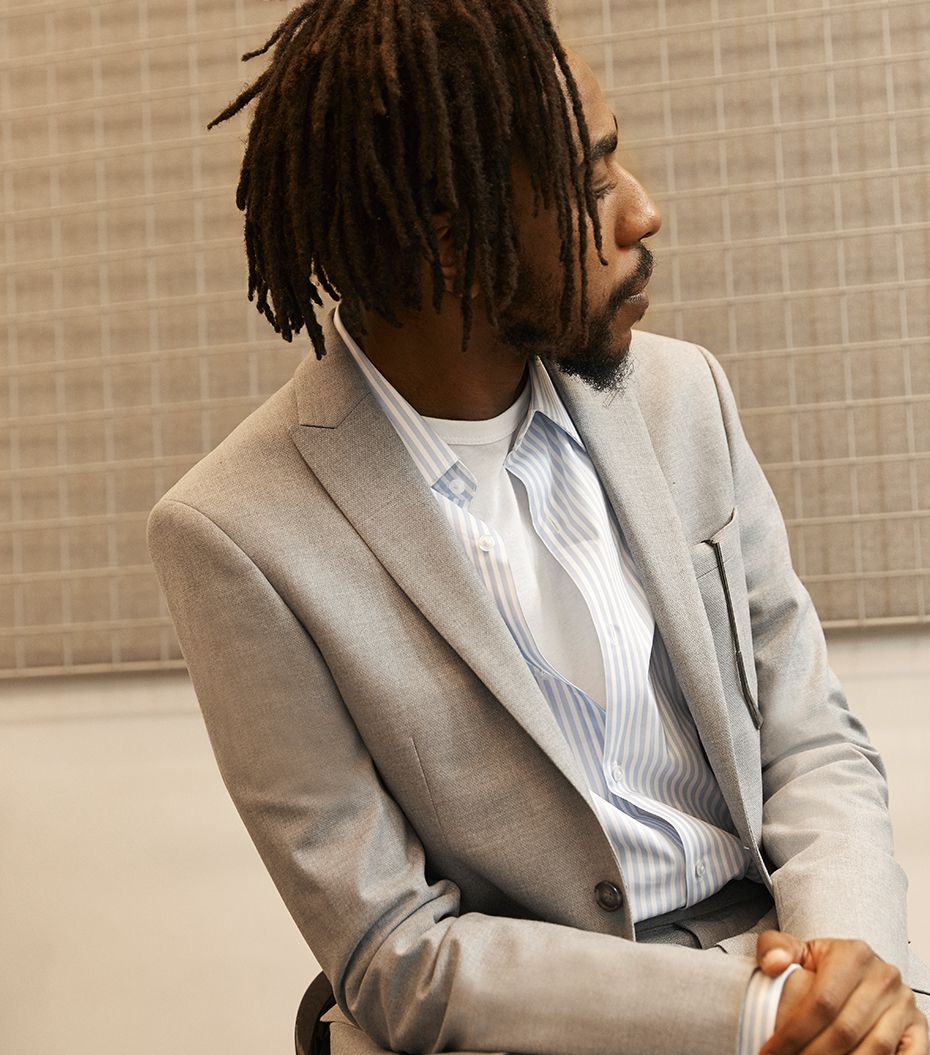 Do you remember your first suit?
I can't really remember my first suit but my favourite suit is one an Uncle gave me, he got married in it back in 1973. It's a brown suit with an orange and blue pinstripe, a real extensive lapel with a waistcoat and the trousers were flared, I had to get those tapered though. I wear that with a t-shirt and white kicks, that's a vibe.
What do you like about this suit?
Grey is really easy to wear and I like things that are effortless and versatile. I try and design for versatility so I like the shade of grey, it's good enough to go with light or dark shades when it comes to pairing up. I like the cloth, it feels good. It's like "hey, you can hug me if you like."