Our Love Not Labels collection launched back in May and was fronted by the always-amazing Kenny Jones, Roxxxan, Charlie Craggs and Doug Armstrong. As our second collaboration with anti-bullying charity, Ditch The Label, we invited founder, Liam Hackett and the squad down to our Oxford Circus flagship store with an intimate audience to talk coming out, the campaign and, of course, Pride…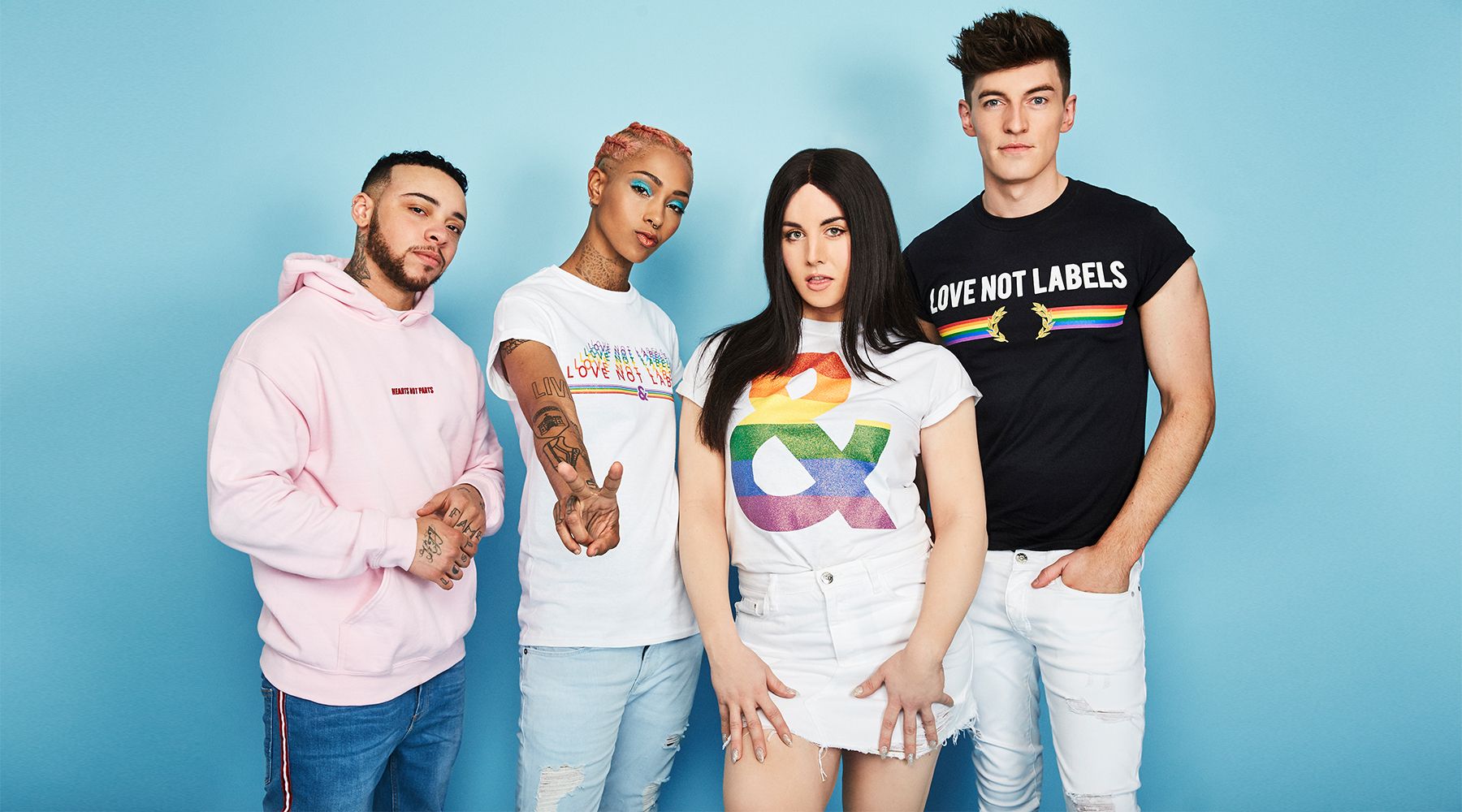 Tell us a bit more about what you do and why Pride is so important to you…
Doug: My name is Doug Armstrong, I'm an online content creator. It's great fun as I get to work for myself, make great content and just do what I want. I love Pride because I feel like everyone comes together, it's supposed to be a month but now it's like the whole summer, it's great.
Kenny: Hey guys, my name's Kenny Jones, I'm 24 years old and I'm a model and activist. Pride for me is about coming together, it's all about that family vibe that you get around LGBT. There aren't many places where everybody interlinks and Pride just smashes it out of the park for that.
Charlie: Hey guys, my name's Charlie and I'm a Trans activist and author. Pride for me is obviously a celebration and a big party but it's also important to remember that it started off as a protest and it was a protest started by predominantly Trans women of colour. I feel like it's important that we don't forget the Trans women of colour who are being murdered, the numbers are going up each year. For me, Pride should be a celebration but also still be political.
Roxxxan: Hi everyone, I'm Roxxxan. I'm a rapper and thanks to River Island, a model. I'm joking [laughs]. I'm celebrating Pride but I'm also celebrating Black Pride. We can't say "we're gay, love us and give us freedom" if we're not going to involve everyone. Why are we discriminating against minorities?
Ditch The Label was started after I was bullied for over ten years. Have you guys had any experience of this?
Doug: I think you almost become immune to the negative comments. I've been getting them for so long now I just kind of laugh it off – it's the only way to deal with it. I see those comments and think "Aw, poor you. You're less educated and you don't understand" and I wish they could realise but they don't.
Kenny: A lot of the guy friends I had felt like it was a competition and saw it as a way to degrade me from women liking me. If we were at a house party and a girl was taking interest, it was a way for them to say "you know that was a girl, right?" and I just got tired of it.
Roxxxan: I hid being gay from everyone for a long time but my girlfriend at the time was in music too. She had an interview with The Metro and told them she was dating me. The week after, it was printed 'MC Roxxxan is the one for me" so it kind of came out itself. I woke up to 93 missed calls. I'm mixed race, Irish Catholic and Jamaican Rastafarian so it really was a big thing. At the time, I felt like I wanted to die but looking back now I think it was the best thing because I just had to own myself and own who I am.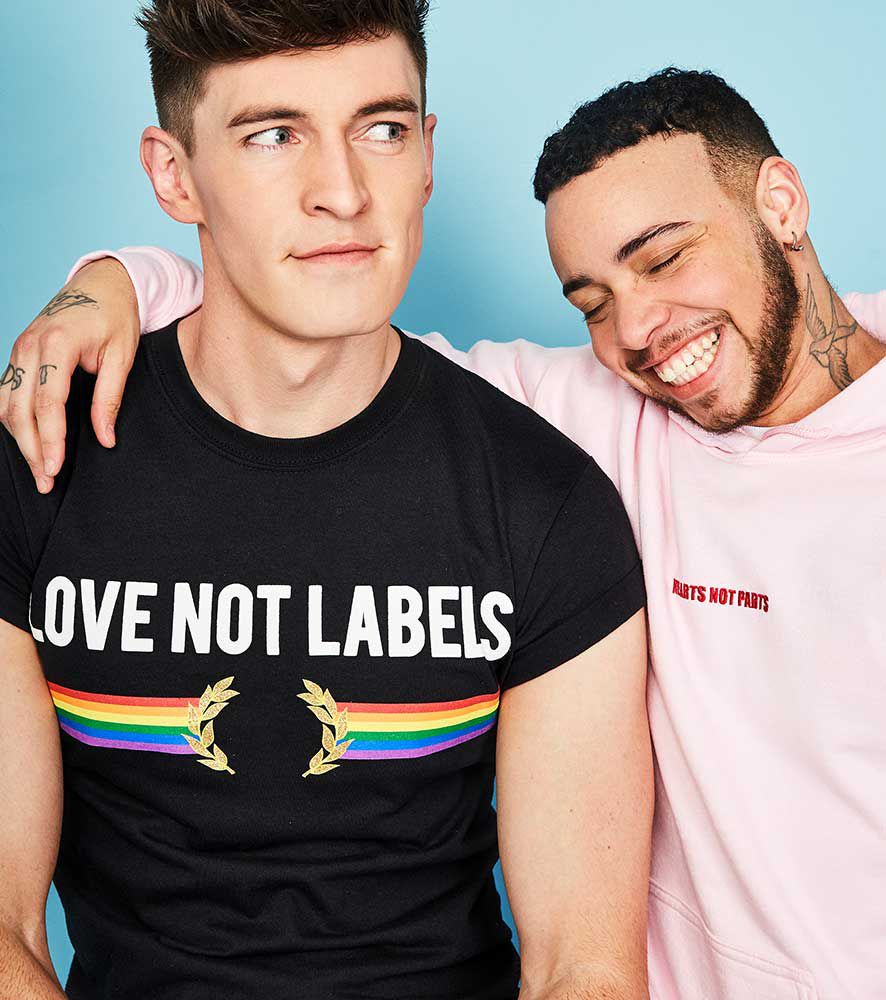 How did you find being in the new River Island campaign?
Charlie: My Tinder is lit. Just saying. [laughs] so thank you River Island for all the boys.
Roxxxan: It was fun. I was probably the most closed and the most nervous. Everyone was really nice, we were having a laugh, we had Janelle Monae in the background and I was getting my Pynk on.
Kenny: I loved it. Just how it was put together, the kind of the support we've had and how much exposure they've continued to give us after the shoot, like today, has been great.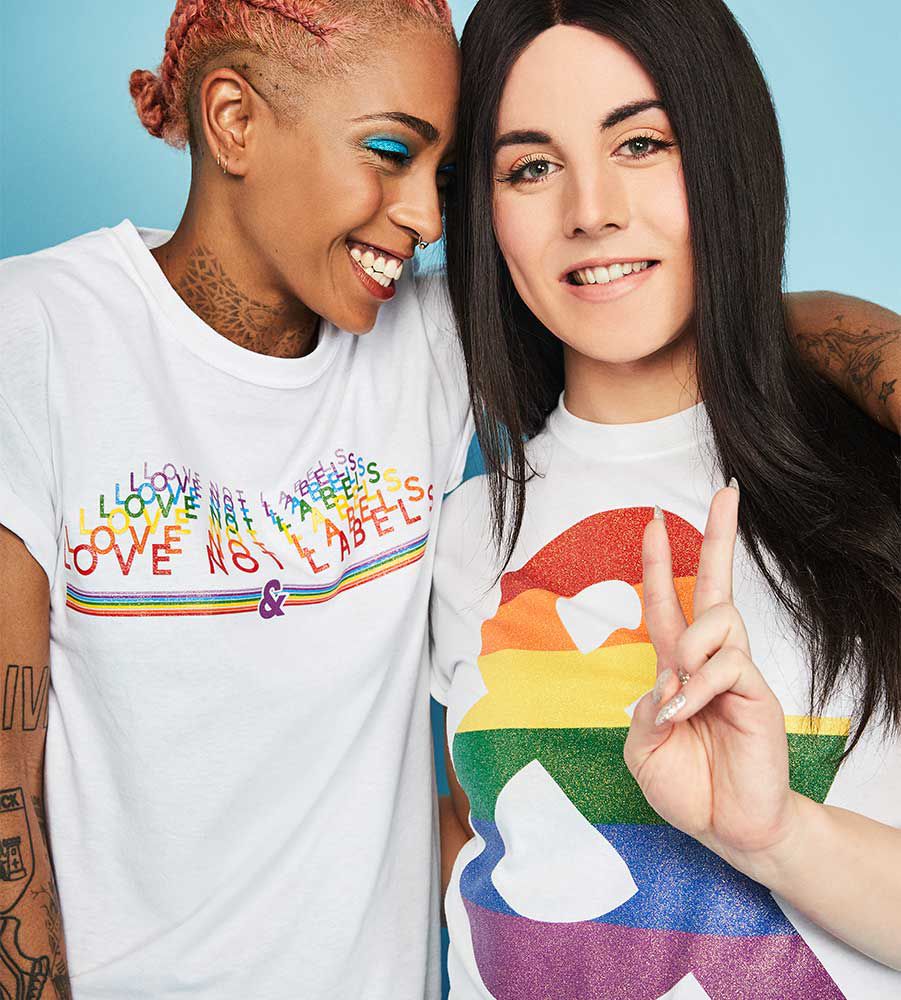 What kind of advice would you give to people who aren't LGBT+ who want to support our community?
Charlie: Prejudice only blossoms where it's allowed to. It's about calling out hate, coming to Pride and celebrating if you want to be an ally but also being an ally in your everyday life. If you're in your group of friends and someone says something that's not okay, call it out and you can do this in a really non-confrontational way.
Roxxxan: Don't be scared. Our community is not just for us. I've got friends who I've invited to Pride and they're like "Ooh no, I'm not gay." [laughs] You don't have to be gay to go to Pride. It's a celebration where anything goes. Don't be scared. We don't bite…unless you want us to. [laughs]
Stay tuned for the rest of our #LoveNotLabels interviews...