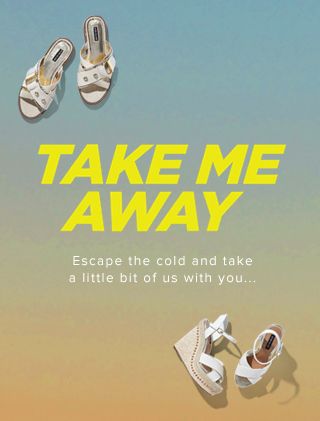 Already planning your next getaway? We feel you! We've teamed up with Secret Escapes to hunt down the top 20 islands across the globe to make your holiday planning a breeze. Whether you're looking for a zen week of sun soaking or a whole lot of poolside partying, Secret Escapes has found the island for you. Time to match your bikinis to your destination and browse our holiday shop for a whole new island wardrobe.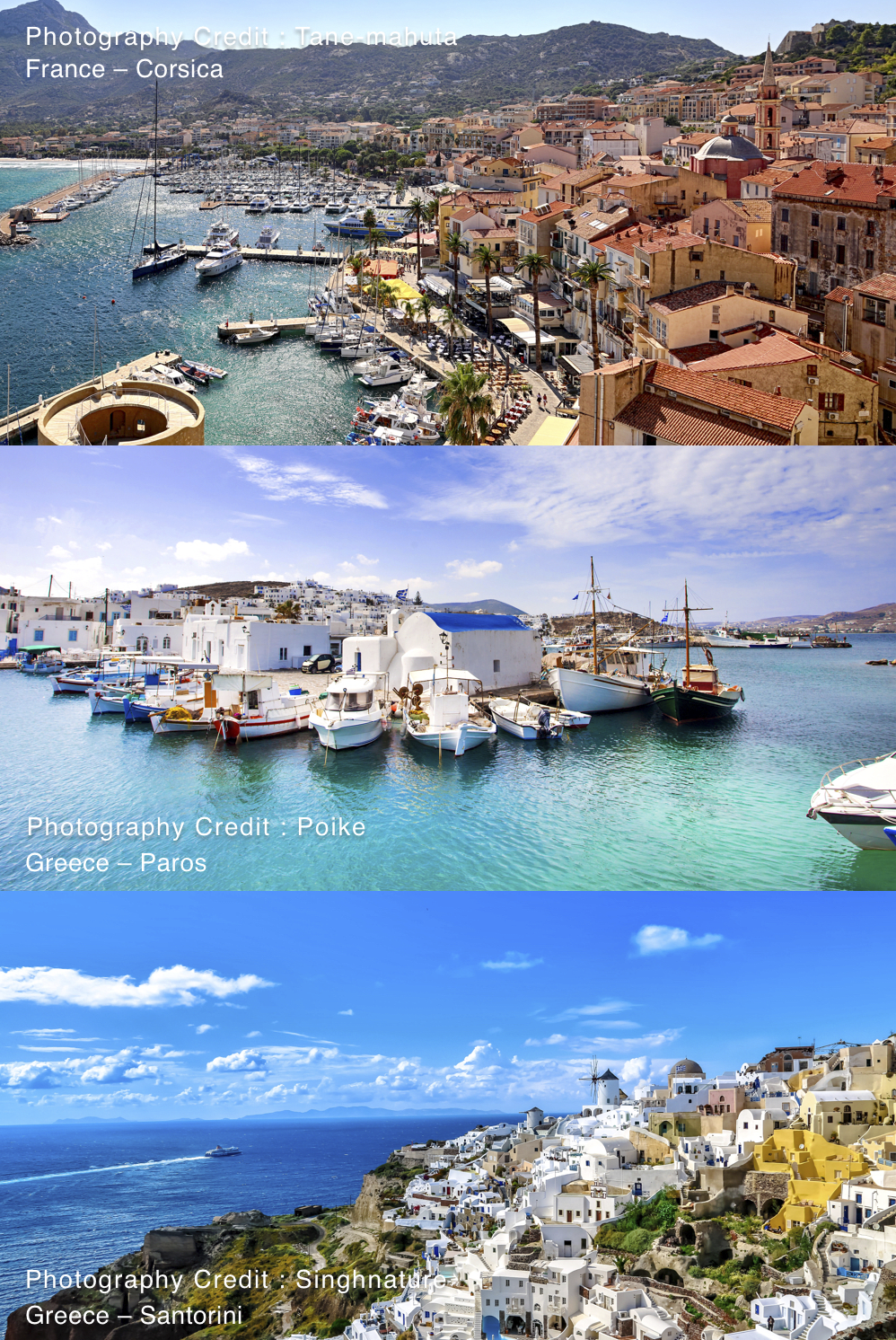 Philippines – Malapascua
Navigating the labyrinthine streets of Manila is a rewarding experience for the urban junkie, but one that's especially taxing on the leisure-focused holidaymaker. If you're after a Maldives-esque escape but want to keep off the beaten path, make the island of Malapascua your next destination. The tiny, sun-kissed island offers a rather unique Mediterranean vibe and a charming small-town feel. When you're done taking in the jaw-dropping beauty of the beaches, explore the town's casual bars and local eateries or take advantage of the excellent diving opportunities beneath the turquoise waters beyond.
France – Corsica
Corsica is one of the most naturally beautiful islands in the Mediterranean. Wild forests and jutting mountains dominate the interior, but where the land meets the sea, gorgeous beaches await. Discover what each can offer below, for a truly beguiling outdoor escape. Corsica is a sublime landscape for outdoor lovers. Though the beaches may get plenty attention, the mountains, river valleys and ancient forests of the interior offer a wealth of glorious landscapes and intrepid adventures. Sea and mountain sit side-by-side, creating a unique terrain that makes Corsica one of the finest, untouched outdoor spots in the Mediterranean.
Greece – Paros
For something upbeat but no less relaxing, try the many thrills of Páros. Its capital Parikia sits in a bayside location, and offers a pretty port, water sports opportunities, and plentiful shops and restaurants. Try Kolymbithres Beach for soft gold sands lined with surreal granite rocks, visit the incredible Byzantine church of Panagia Ekatontapiliani for your fill of history, and soak up the scenic Cycladic architecture that surrounds you as you spend an evening at a lively beach bar or club.
Greece – Santorini
Santorini is famed the world over for its iconic whitewashed houses and blue domes, and more spectacularly, its caldera sunset views. Witness this incredible phenomenon from all over the island – hike up to Skaros Rock in the town of Imerovigli, or head to the top viewing spot that is Oia. This Cyclades island flawlessly combines natural beauty and pristine glamour, making it a desirable destination for travellers looking to splash the cash.
Croatia - Lokrum Island
As you walk along the city walls of Dubrovnik's Old Town, it'll be hard to miss Lokrum island, a verdant mass rising out of the ocean. Boats to the island are frequent, and island-exploring is a must in Croatia. Home to family-friendly beaches, it's a fantastic swimming spot - but be aware that the outcrop is quite rocky. On the island you'll find a botanical garden for nature-lovers, and Paradise Walk: don't be fooled by the name - it can be sweltering during the day, with little shade from trees, but the views from the top are heavenly.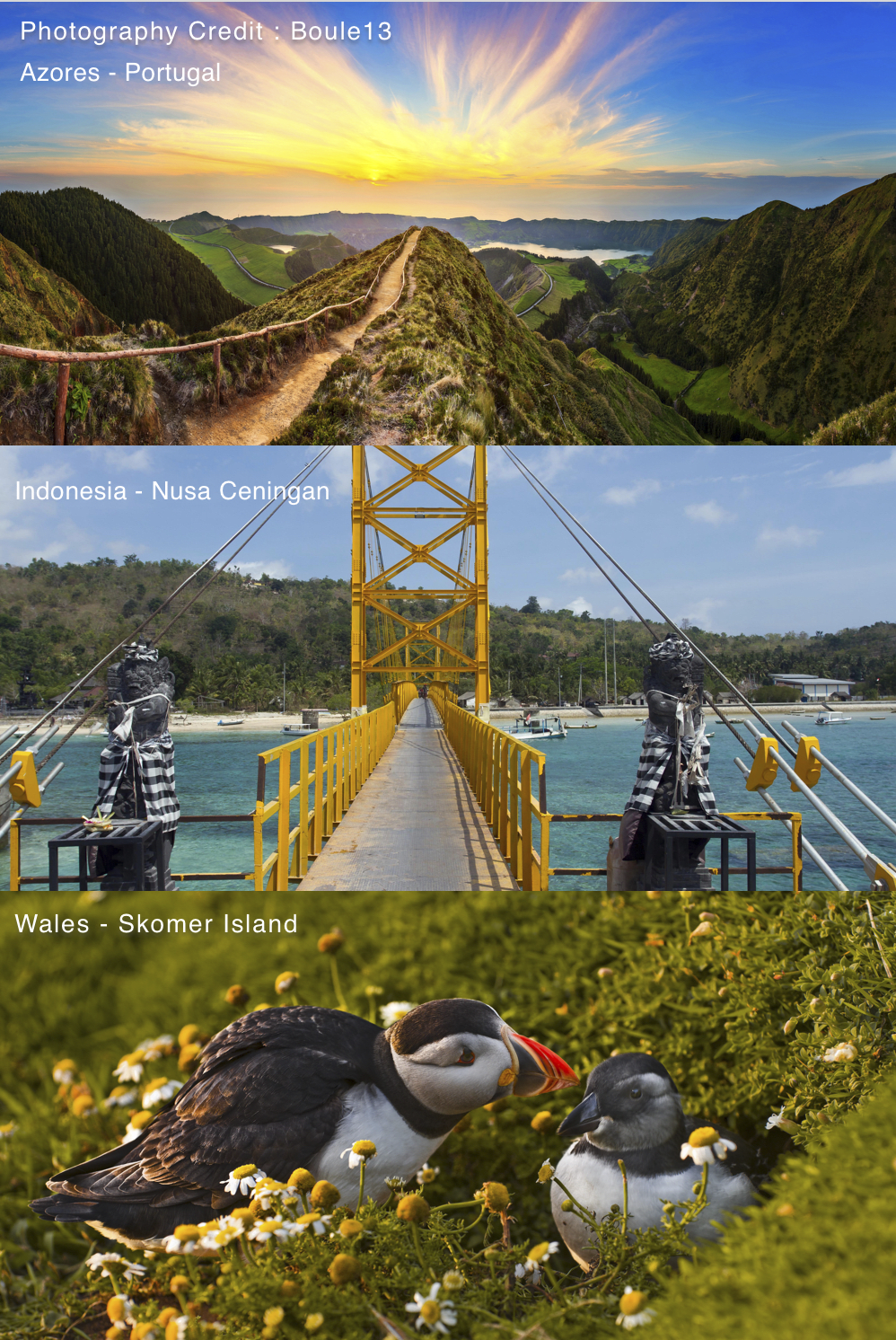 Indonesia - Nusa Ceningan
Hordes of spring breakers cramping your style? Hightail it to Nusa Ceningan instead of Kuta and Seminyak. Nestled between Nusa Penida and Nusa Lembongan, the small island is known for its fantastic diving and snorkelling opportunities. Intrepid explorers will even find underwater sculptures and temples. While not as crowded as other Balinese beach destinations, Ceningan's popularity has been growing so don't expect completely empty beaches. Should you want a little more solitude, spend an afternoon walking the island's inland trails for some truly spectacular sunset views from Ceningan Ridge.
Sri Lanka – Beruwala
Located just off the southern coast of India, the teardrop-shaped island of Sri Lanka is festooned with diversity. This balmy paradise boasts myriad charms, encompassing everything from ancient UNESCO World Heritage Sites and wildlife-rich national parks to the palm-fringed golden sands of Beruwala's 'Golden Mile' the perfect place to wind down after days of active exploration. Alongside being a major area for indulgent Ayurvedic treatments, it's an ideal place to enjoy an array of water sports. Further on from the shores of Beruwala is Bentota Beach, nicknamed 'Paradise Island' thanks to its even softer and more glistening sands. Sit back, crack open a coconut here and allow yourself to relax as you watch the sunset.
Italy (Lakes) - Monte Isola

If you want complete serenity, away from the usual tourist trappings that can be expected in the lakes, head to the largest of the inhabited lake islands. Here you'll find a small community jettisoned from the mainland, with the stunning Alpine backdrop that the lakes afford. Serenity awaits…
Wales - Skomer Island
Well known for its extraordinary puffin population, Skomer Island is a must-visit for wildlife fans and birdwatchers, located just a mile off the wonderful Pembrokeshire Coast. During spring, an abundance of honeysuckle, campions and other wild flowers carpets the rugged landscape in a flurry of colour. Backed by picturesque grassy cliffs and just a few miles from St David's sits the remote, rural Abermawr Beach. Elevated behind the golden sands is an undiscovered, wildlife-rich marshland and enchanting wood; in the spring, you'll find beautiful purple-blue bluebells and white wild garlic flowers blanketing the floor.

Portugal – Azores
Nestled on Europe's western fringe, over 1,300 kilometres west of mainland Portugal, you'll find the Portuguese Azores Islands. Charmingly wild, comparatively unexplored and (thanks to the recently launched direct flights from Ryanair) easier to get to than ever before, there's never been a better time to discover what The Telegraph have described as "Europe's answer to Hawaii". São Miguel is the biggest island in this mid-Atlantic archipelago. Here, a crashing coastline edges an interior that's blanketed in lush-as-you-like vegetation, whilst brooding volcanoes and pristine crater lakes set the tone for the island's knock-out scenery. This is a place that can pique even the most dormant sense of adventure.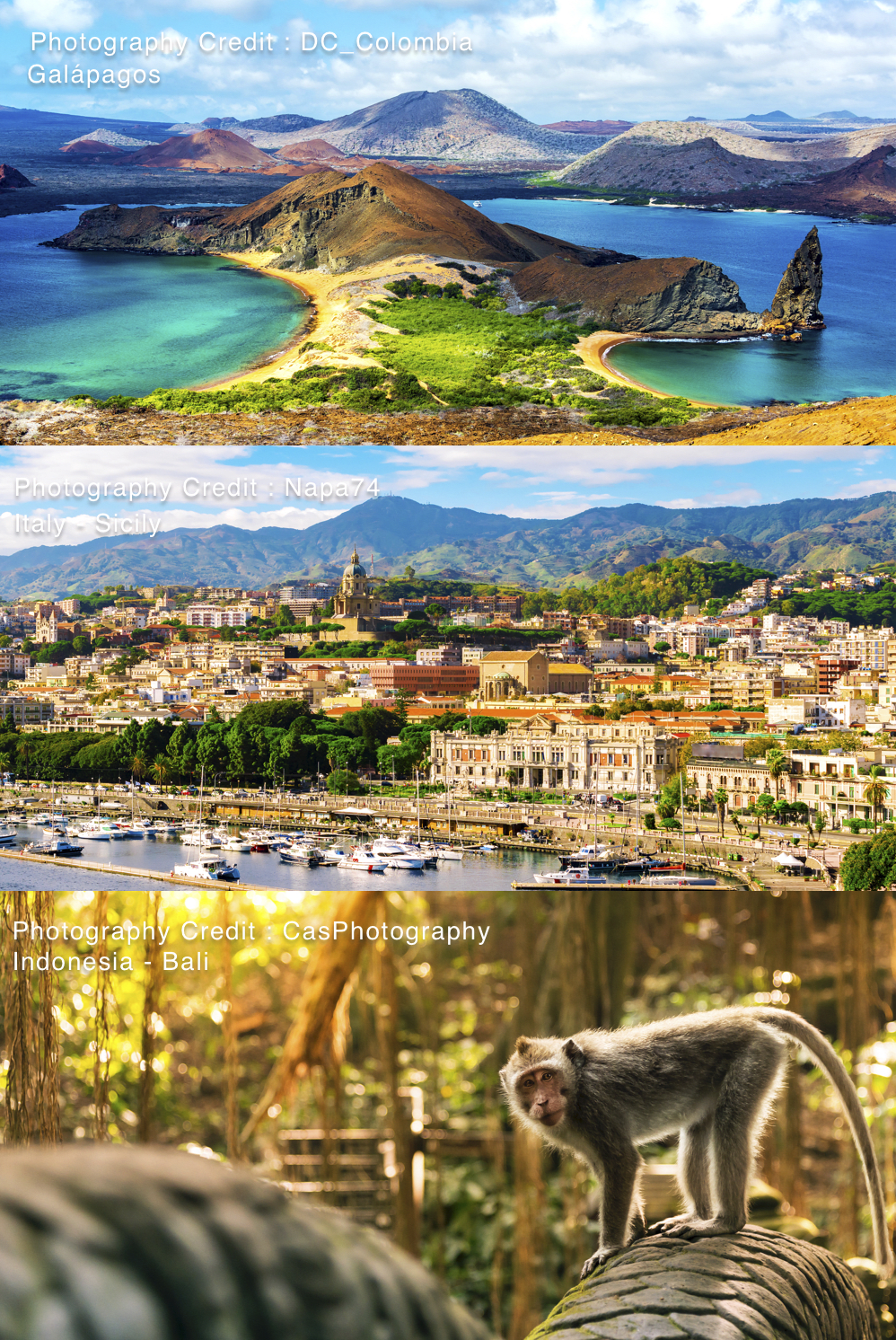 Montenegro - Sveti Stefan
A gem of the Adriatic Coast, this 15th-century island has a postcard-pretty charm that's hard to resist. Climb the steep slopes of the mainland as the sun is setting and you'll be rewarded with a scene of crystal-clear waters and terracotta-toned rooftops, all with a backdrop of burnt orange.

Galápagos

Live out your wildest David Attenborough dreams with a visit to the 'enchanted isles' of the Galápagos, famed as Charles Darwin's research ground. Cruise the deep blue waters of the Pacific Ocean, soaking up awe-inspiring volcanic landscapes and uninhabited islands before snorkelling among magnificent reef and marine life, and scuba diving with sea lions, penguins and turtles.

Italy – Sicily
Sicily, an island packed with enchanting adventure, bustles with myths, legends and irresistible Italian charm. The culture, art, architecture and food is informed by centuries of tussles between political and cultural superpowers; Norman, Arabic, Byzantine and Baroque styles and influences can be found across the island. The variety and character of Sicily makes it a compelling proposition for an island escape; discover our top picks for places to see across the island, from gorgeous coastal towns to enticing cultural experiences.
Indonesia – Bali
An island like no other, Bali is a dreamy jungle paradise with an undeniable spiritual atmosphere. As you walk along its streets, speckled with burning incense and offerings to the Hindu gods in the form of small sweets, flowers and strangely, cigarettes, you'll feel this divine connection emanating from everything. Discover what makes this destination so extraordinary, whether you choose to explore its ethereal temples, make friends with the local monkeys, dive with myriad marine life or get your adrenaline pumping on jungle swings.
Australia - Lizard Island
A speck of an island in the middle of the GBR, Lizard Island is a popular starting point for dives along the Ribbon Reef to the east. World-famous Cod Hole is the best place to spot insanely large potato cods, who are so friendly they'll come nuzzle with you (in exchange for some food). You could spend weeks diving the Ribbon Reef and still not scratch the surface (metaphorically, not literally), but Cod Hole is definitely one of the best.
Scotland - Coll, Inner Hebrides

The Isle of Coll, located far west in the Inner Hebrides, is an island almost entirely dedicated to marvelling at the night sky. This tiny spot of land, with a population of just 32 people, is the world's second Dark Sky Island, an achievement which doesn't come easily. This title means that the entire community are dedicated to maintaining a dark sky; therefore there are no streetlamps, making every trip out after dark quite the adventure. The sky here is so dark that you'll even have a strong chance of spotting deep sky objects, like the Great Orion Nebula.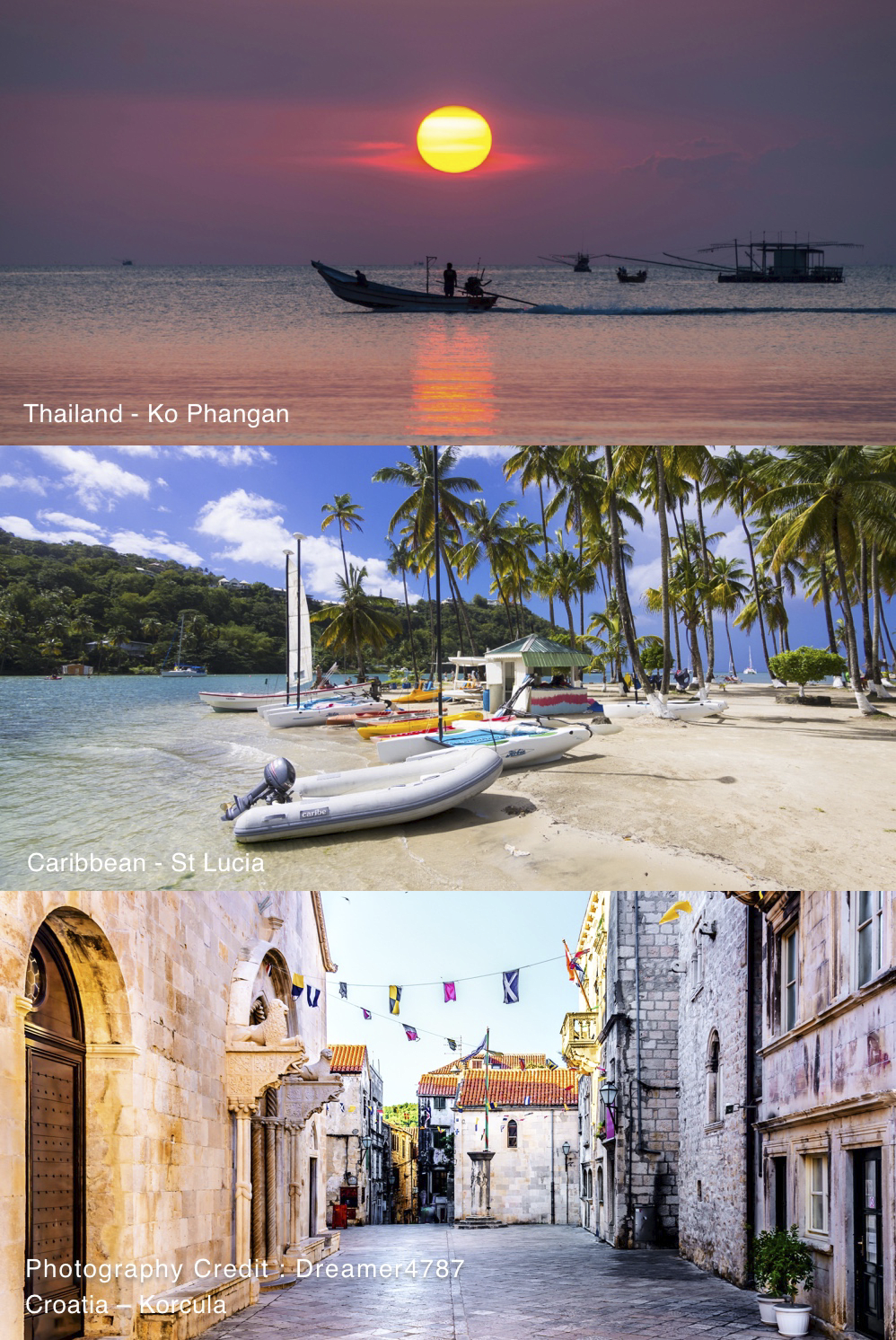 Croatia – Korcula

Steeped in history, Korcula's claim to fame goes beyond being the alleged birthplace of Marco Polo. Beyond the city's gates, the island's calm waters are also particularly enticing thanks to the island's perennially warm weather. You can rent a kayak and snorkelling equipment from around town and paddle your way to the smaller islets that dot Korcula to explore hidden beaches and snorkel the shallow waters. Come sundown, park yourself at one of the town's many waterfront bars and unwind with a glass of the local speciality – a dry white wine made from the regional Posip grape.
Caribbean - St Lucia

From the heights of the Pitons mountains on its western coast, right down to its 20 protected marine areas growing on volcanic rock, St. Lucia's landscape is as surreal as it is eye-pleasing. A spectacular riot of colour and drama, it still makes quite the soothing sight for any kind of traveller – whether you're one to hike through rainforest trails, get your sea legs kicking with a panoramic boat trip, or simply flop onto soft sands for as long as you possibly can.

If it's a more fast-paced natural escape you're after, climb the active Soufrière Hills volcano for endless views over verdant plantations. On the flip side, if you hear the local nightlife, shopping scene and buzzing beaches calling your name, make a beeline for Rodney Bay along the north-western coast.

Spain – Mallorca

Just a short hop from the UK, Mallorca has long since been a place synonymous with an easy island getaway, attracting avid sun-seekers, a yacht-residing glitterati and cultural enthusiasts alike. As the largest of Spain's Balearic Islands, it boasts miles of intriguing coastline, from stark and imposing cliff faces to seemingly endless stretches of powder white sands. This attractive contrast, teamed with a healthy smattering of simply charming historic towns and its beautiful capital city – Palma, keeps Mallorca in the travellers' limelight. If you make the effort to explore the islands' varying landscapes – you won't be disappointed with what you discover.
Thailand - Ko Phangan

Unspoilt white sands, a rich variety of sea life and visitors you could count on one hand make this beach a true hidden gem, whether you're looking for a spot of snorkelling or a chance to relax. The patient few are rewarded with a chance to explore the Ko Ma, a tiny island which becomes accessible as the low tide opens a sandbar between it and the main beach. A gloriously tranquil cove fringed with dense palm trees on the edge of Ko Phangan, Why Nam Beach is petite yet perfect. Soak up the rays, take a leisurely swim (mind the rocks on your way in) and watch the sun set, before heading to the nearby Haad Rin beach to witness a psychedelic spectacle of colour, music and dazzling fire dance displays, at the Full Moon Party.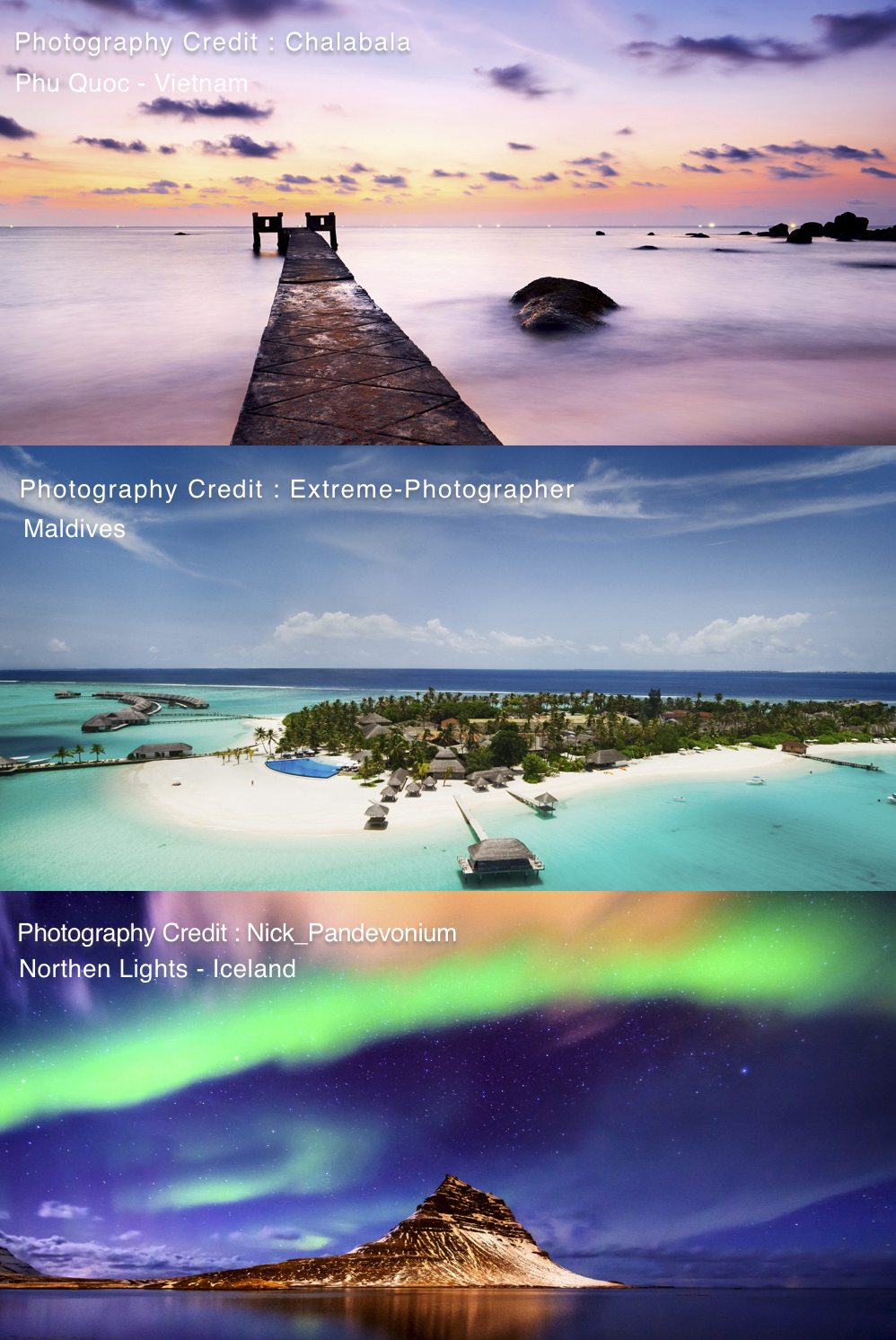 Vietnam - Phu Quoc island
If barefoot, toes-in-the-sand relaxation is all you're after, grab a boat ride or flight to Phu Quoc Island or the archipelago of Con Dao for a chance to kick back in paradise. Located off the southwestern coast in the Gulf of Thailand, the former is home to white-sand beaches backed by a dense tropical jungle, and is your go-to for a blend of culture, nature and romantic resort holidays. The latter sits off the southeastern coast and comprises 16 mostly uninhabited islets dotted across gloriously clear waters; head here to discover a rich and expansive nature reserve, coral reefs teeming with marine life, and sea turtle nesting grounds.
Indian Ocean – Maldives

Scattered through the turquoise waters of the Indian Ocean, the Maldives are the stuff that castaway island fantasies are made of. The 26 ring-shaped atolls are comprised of over 1,000 coral islands, yet only 200 or so are inhabited, creating a real-life, far-flung paradise.
Many a honeymooner has ventured here to while away a week or two on the white sands of a dreamy island resort, but there's much more to the Maldives than idle relaxation and staring into sunsets (though let's be honest, they're both great). There's no need to worry about cabin fever or dare we say it – boredom – as even the most adventure-seeking of travellers will find plenty to keep them entertained.

Iceland

Iceland positively encourages intrepid exploration – head into the hinterland for surreal volcanic landscapes and craggy peaks that shelter cascading falls. Luckily for you, Icelanders built a vast road network that circles the far reaches of the island. Aptly named the Ring Road, it circles the outer edge offering access to a host of breath-taking sights. Discover steaming landscapes straight from a sci-fi movie, dramatic coastlines with jet-black sands, and the elusive, evocative emerald green of the Northern Lights.
Mozambique - Bazaruto Island
Travelling isn't always easy in Mozambique, with a significant dose of both adventure and patience required given its massive size. But the rewards for those who take the plunge are unprecedented. The tiny, coastal town of Vilanculos is a great base from which to explore one of the country's most celebrated natural landmarks: the stunning Bazaruto Archipelago. Complete with crystal-clear waters, a time-stands-still atmosphere and a heady dose of romance, this ribbon of islands set just offshore can't help but entice anyone and everyone to its dreamy shores. And the best part? You're pretty much guaranteed to have it all to yourself.

To find out more about the destinations featured in this blog post head to Secret Escapes.